This Week in Allegedly: Breast-Based Legal Defense and Secret Indictment
Hello!
New York City's crime and courts news this week featured developments in sexual misconduct cases involving high-profile men, such as Cuba Gooding Jr. and R. Kelly—and claims of gender-based discrimination among NYPD leadership. We'll have more on those cases in The Allegedly List. For The Allegedly Original, Andrew Denney looks at courthouse concessions amid the COVID-19 pandemic—and what potential closures mean for people at court.
The Allegedly List
The Allegedly Original
A Small Concession
By Andrew Denney
For years, Jemaine Mack has held his own court at the Eastern District of New York in Brooklyn.
"You have a headache? Here's a Tylenol," says Mack, who has long manned the first-floor concession at the federal courthouse here. "A judge yelled at you? Here's an aspirin."  
Mack's shop sells the kinds of essentials and sundries that defendants, plaintiffs, lawyers, potential jurors, and journalists might need in a pinch—cold Poland Spring waters, hot coffees, and York Peppermint Patties, while chatting about the Mets or sharing garden-variety gossip.  During the four-month trial of Joaquin "El Chapo" Guzman, the coke kingpin's wife would often drop by for java. 
"The most notorious drug dealer in the world—and his wife is in here having coffee," Mack says. "Martin Shkreli is down here, slapping high fives with us." 
But Mack's days at the Cadman Plaza courthouse may be coming to an end. On a normal day, Mack would have $300 in his till by noon. On a recent Wednesday, there was about $30 by that same point.  His shelves are barren compared to before the pandemic.
Mack and his son—who are both visually impaired and operate the concession through New York State's program to help blind people establish small businesses—have seen a substantial decline in sales because of COVID-19. The pandemic has spurred slowdowns in the city's state and federal courthouses—and prompted a shift to remote proceedings. While in-person proceedings are gradually resuming, they are nowhere near pre-pandemic levels. The foot traffic that courthouse concessions and cafes rely upon just isn't there.
Mack's son, who holds the license for their concession, recently told his father that he would need to be laid off for a while, until business picks up.  The state agency that runs this program did not immediately provide comment on how many concessions were operating under this program. City officials deferred comment about courthouse concessions and cafes to state officials, who didn't comment. 
The Courthouse Cafe, two floors above Mack's shop, appears to have shuttered, with no apparent plans to reopen soon.
At Manhattan criminal court on 100 Centre Street, arguably one of the busiest courthouses in the world, Ray's Candy Stand was closed. A court officer said there wasn't any word on whether it would re-open. (The proprietor, Ray Lonergan, could not immediately be reached for comment.)  The downstairs cafe, a stalwart for quick sandwiches and caffeinated beverages, was locked, with a paper sign on the door: "SORRY 8/31/2020 OPEN AGAIN ON DATE."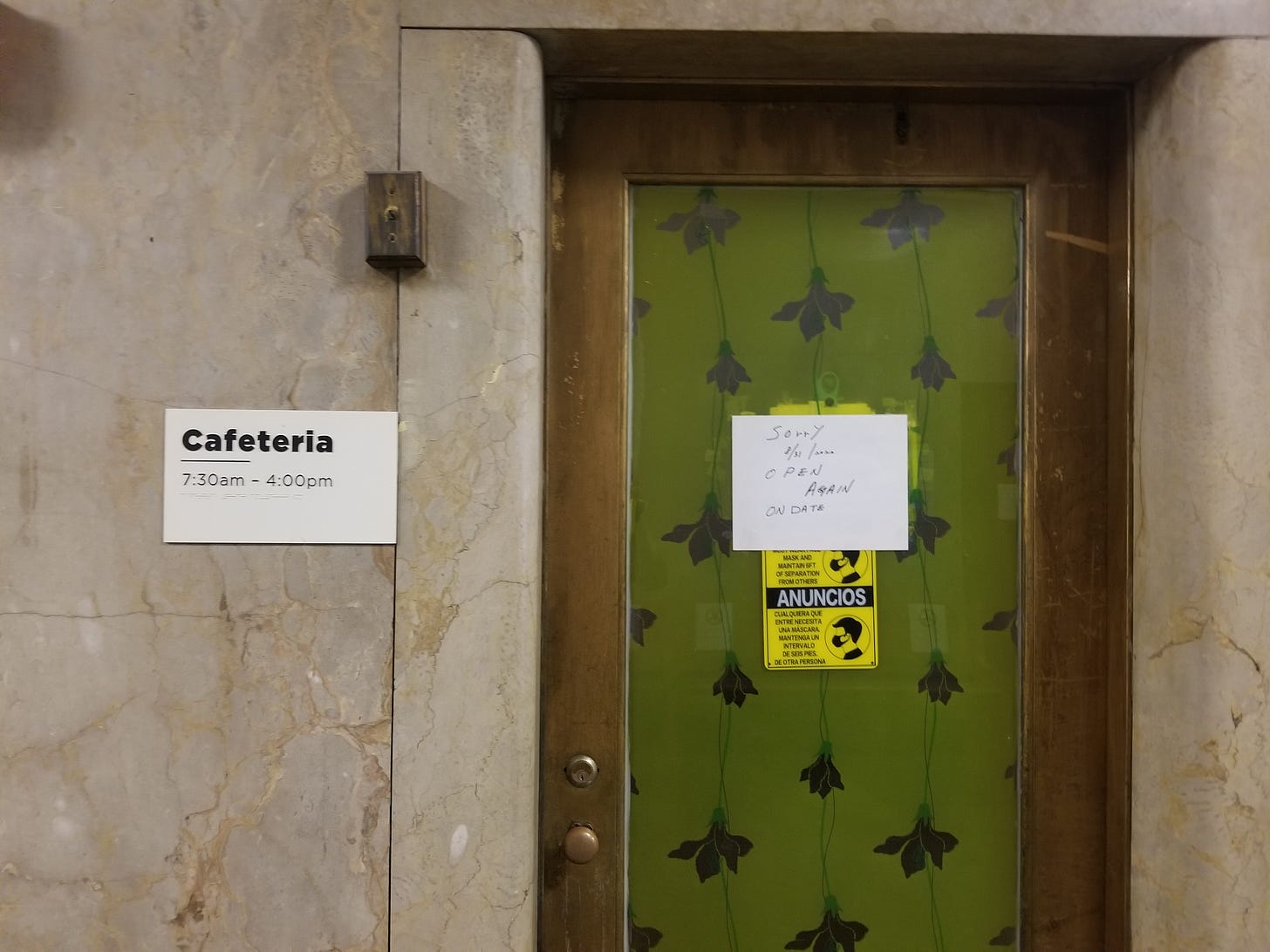 The cafes at the 500 Pearl St. and 40 Foley St. Manhattan federal court buildings stood quiet during a recent visit; several courthouse staffers said their reopening dates were unclear. The downstairs concession stand at 500 was open, but operating with limited hours, they said. 
For many courthouse regulars, these concessions and eateries provided solace amid their often grim business.
"Almost nothing good happens in 100 Centre Street, so it's nice to see someone smiling and handing you a regular coffee every morning," said veteran criminal defense attorney Ron Kuby, who noted that he hasn't set foot in a courthouse since March.
Kuby recalled that one of his favorite photos is him with his mentor, William Kunstler, scarfing down hot dogs and sipping Diet Cokes in a courthouse cafe.  
"We've lost a lot of New York over the past few months. Some of it, it was good to see it gone: all the rich people, the incredibly heavy traffic and the big names," Kuby said. "But losing things like local businesses, that's tragic for everyone, for the vendors, for the customers. It hacks away at an important piece of familiarity."