This Week in Allegedly: Ghislaine Maxwell and a Dismembered Tech Entrepreneur
Good morning!
This was a very busy week in the world of New York City courts and crime. We break down what happened in The Allegedly List. After our roundup, Ellen Moynihan takes us to Manhattan Supreme Court for The Allegedly Original, where a post-COVID return to normalcy didn't go quite as planned. 
The Allegedly List
Jeffrey Epstein's pal, Ghislaine Maxwell, pleaded not guilty in Manhattan Federal Court to allegedly participating in his sex trafficking of minor girls. No surprise here: Maxwell was denied bail. Via The Guardian US * Remember that controversial deal that was supposed to settle many civil claims against Harvey Weinstein?  It's a no-go, with the judge calling it a "phony" settlement Tuesday. Via Vulture * Tech entrepreneur Fahim Saleh was found "decapitated, dismembered" in his Lower East Side apartment. "An electric saw was found near the body" in an "apparent targeted murder." Via New York Post * David Brand reported that public defenders are suing New York to stop in-person criminal proceedings because of coronavirus risks. Courts officials claim, however, that some legal aid orgs had already agreed to some in-person proceedings. Via Queens Eagle * Jan Ransom explored Manhattan District Attorney Cy Vance's uncertain future, despite him beating Weinstein and landing a major  U.S. Supreme Court win involving President Trump's tax records. Vance also hasn't said if he'll even run for a fourth term in 2021. Via New York Times * Trump's lawyers, meanwhile, aren't giving up their argument for presidential privileges regarding Vance's subpoena. During a Manhattan Federal Court proceeding Thursday, Trump's legal team said they wanted to peek at a sealed D.A. filing that had details on the grand jury investigation. Via New York Daily News * An analysis of videos from recent police brutality demonstrations showed not only that NYPD members used force against protesters, but "suggests that many of the police attacks, often led by high-ranking officers, were not warranted." Via New York Times. *NYPD Chief of Department Terence Monahan, and several other officers, were injured Wednesday during a clash with protesters on the Brooklyn Bridge. Mohanan's pinky was allegedly broken in the scuffle.  Via New York Post * The NYPD made moves that would make it easier to revoke journalists' press credentials, their proposals coming amid criticism of how officers treated the media during New York City's George Floyd protests. Cops pushed and harassed two Associated Press reporters, and several journalists were arrested while covering demonstrations. Via New York Post * Mayor Bill de Blasio blamed New York City's crime uptick on the state court system, which has seen slowdowns due to COVID-19. A court system spokesman countered that the mayor "continues to refuse to take any responsibility for his actions, instead shifting the blame." Via New York Post * Eastern District of New York prosecutors will seek the death penalty for an alleged MS-13 gang leader who's charged in the murder of two teenage girls. Prosecutors have said Alexi Saenz's killings often involved baseball bats and machetes, and had "substantial planning and premeditation." Via New York Daily News * The New York Board of Law Examiners canceled the bar exam scheduled for September because of coronavirus safety concerns. The next steps are still up in the air. Via Bloomberg Law * Shootings are up, arrests are down, and obviously everyone wants to know why. Some electeds maintain that cops are "staging a work slowdown" over protests, while NYPD commanders insist they'e stretched thin, with some officers "reluctant to carry out arrests because of what they see as unfair scrutiny of their conduct." Via New York Times. *
The Allegedly Original
A Murder Trial Didn't Resume As Planned, But Was Coronavirus To Blame?
By Ellen Moynihan
"We tried our best, we really did," said Manhattan Supreme Court Justice Ann Scherzer, declaring a mistrial Tuesday in the murder case against Chester Taylor and Darius Hastings.
Mistrials happen, of course, but this instance was a unique disappointment. When COVID-19 prompted the suspension of jury trials in March, this one ground to a halt. As in-person proceedings gradually expand beyond arraignments, Taylor and Hasting's trial was supposed to resume with brand new coronavirus safety measures on July 20—the first New York City jury trial to do so. 
The Office of Courts Administration had publicized the trial's planned resumption and safety preparations. (Taylor and Hastings reportedly maintain their innocence.) Scherzer, lawyers, and court staffers were meeting Tuesday to discuss next week's proceedings. Not long after they gathered, OCA posted several photos of them prepping Scherzer's courtroom on the agency's website. One photo of Scherzer showed her donning a plastic face shield. Another showed Scherzer, lawyers, and various court staffers standing at a distance from one another, in masks.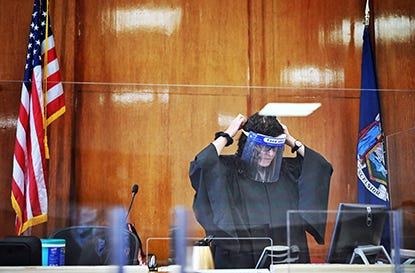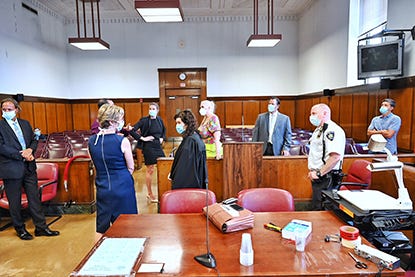 In the end, their best laid plans unraveled.  Officials could control the proceedings to limit infection—but they could not control jurors.
***
Shortly before noon, judge, attorneys, and court staff fluttered about a mostly empty courtroom on the 13th floor of 100 Centre St. They wove among a series of plexiglass barriers, stiffly stepping across between the well and gallery as to avoid one another.  It was physically awkward yet mildly optimistic, conducted with hushed voices and a lingering uncertainty about how to proceed. Yellow Post-it notes dotted the jury box. Numbers were scrawled on these small pieces of paper, which were affixed to every few seats, up to number four. The rest were scattered in the gallery's first few rows. The numbers went up to 10.
Meanwhile, the court reporter stood to one side near the jury box. The judge and lawyers spoke in low tones. Then, they stopped talking. Custodial workers swooped in to clean. One wiped down the microphone on the prosecution's side with a rag. The mic was still on. It made a loud, smothering sound, like a wad of paper towels being rubbed against one's ear.  
Scherzer stood, tapping the top of a fat canister of Clorox disinfecting wipes.  
"They want me to leave my laptop," she said to one worker, seeming confused. 
"What's your name?" she asked another worker.
"John."
"Hi John, I'm Ann. I appreciate it," she said. "I've never appreciated you more."
In the afternoon, Scherzer returned to the bench. It was time for a discussion over Taylor's emerging concerns. The court reporter's nose was exposed. He began to finger the top of his mask, distracted. At some point, he pulled his mask all the way down, chin-strap style.
Taylor was eventually brought into the courtroom, two sets of cuffs linked together behind his back, making a longer set that would accommodate his large frame. He wore a beige sweatshirt and khaki pants and a blue surgical mask.
"As it turns out, we just found out we have 11 jurors," Scherzer said.   
"I had time to speak to my family extensively and without 12 jurors we were uncomfortable going to trial," Taylor said. 
"Your co-defendant went ahead with 11," said Scherzer. "You're probably not going to get another trial again until 2021. I'm just making sure you know this." (Hasting's lawyer could not immediately be reached.) 
"It's a long-term decision for me," he said. "So it's the case that I have to wait, then—"
"You have the mask over your eyes, I can't see your face," she interjected.
"It's raising up, and I have no ability to pull it down," said Taylor, who was still cuffed. A court officer reached over and pulled the mask back down for him, pumping hand sanitizer onto his gloved hands immediately afterwards.
"I've sat in jail and waited for two years for my day in court," Taylor continued. "Through no fault of my own, the pandemic got started…"
"Of course," Scherzer said. 
"My family and I are uncomfortable without 12 jurors."
"I'm not trying to pressure you, it's your decision," Scherzer said.
Taylor was led into a holding cell. His lawyer, Dawn Florio, left the courtroom to speak to him. 
***
The court reporter looked at his cell phone, mask dangling from one ear.
He stood from his chair, mask hooked back over both ears but nose still free. He showed his phone to Scherzer. He had found the Office of Court Administration's post about Taylor's trial.  The post that showed photos of Scherzer in PPE. 
"Is that me?" asked Scherzer.
"A report about the resumption of this trial," he said. Scherzer and the prosecutors broke into short laughs. 
Florio, whose nose poked out above her KN95 mask, re-entered the courtroom. 
"After talking to my client and his family we came to the decision that we don't want to go to trial," Florio said. 
A few minutes later, Taylor was brought back into the courtroom, seated next to Florio. 
"I'll just state for the record that on March 13 we had 13 jurors," Scherzer said. "We adjourned to April, then May, then June, then July."
"In April, we stopped hearing from one of the jurors entirely," she said. "She moved to Long Island to take care of her elderly parents."  
"A week ago, another juror had gotten a new job and wouldn't be able to make money if she took time off," Scherzer said. "Today, the juror who said she got a job said she lost her job, which would bring it to 11 jurors."
"To keep this case going, unfortunately it's impossible, due to the completely unpredictable changes in our world with the coronavirus," said the judge. "I am declaring a mistrial."
"I express my real appreciation to everyone who retrofitted this courtroom and everyone who agreed to work under these difficult situations," she offered with an air of resignation.
"I apologize for wasting this time," Taylor said. 
"That's my job. You don't have to apologize. That's your right. I can't take that away from you, and I wouldn't," she said. 
Taylor was returned to holding, before his eventual return to jail. 
"We tried our best, we really did," Scherzer said. 
The court reporter pulled his mask all the way down, exposing his mouth and nose. 
"Judge, it was great seeing you again," he said. 
Like Allegedly? Then subscribe! We'll soon be offering paid subscriptions, too. Members will get access to important court documents and eventually, more original stories. 
Want to write for Allegedly? If you're a  New York City reporter with an idea, email victoriabekiempis [at] gmail [dot] come with [PITCH: Allegedly] in the subject line.  We pay!