This Week in Allegedly: Steve Bannon and Street Vendors
Greetings!
So, a lot has happened in New York City courts and crime news this week—from Steve Bannon's federal bust to Run-DMC's DJ Jam Master Jay's cold case murder. More info in The Allegedly List. For The Allegedly Original, Catherina Gioino spoke with street vendors about Mayor Bill de Blasio's proposed reforms to NYPD street vendor enforcement; two months after his announcement, they said little had changed to make their lives easier.
Please enjoy this week's edition—and don't forget to subscribe!  
The Allegedly List
The Allegedly Original
Street Vendors Still Don't Have Meaningful Answers on NYPD Enforcement
By Catherina Gioino
On a recent Saturday afternoon, Irena Ariza was selling Disney character masks from a sidewalk table at Junction Boulevard and Roosevelt Avenue in Corona, Queens, hoping young passersby would buy some of her colorful wares. 
Ariza noticed six New York Police Department officers from the 115th Precinct standing on the same corner as her. They were eyeing her table, but Ariza paid them no mind.  After all, Mayor Bill de Blasio had announced in June that the NYPD would no longer enforce street vending regulations. Ariza figured that she had nothing to worry about.
The Ecuador-born Ariza soon learned, however, that she did need to worry about the relationship between police and street vendors like her. In theory, the stated policy change should be positive for street vendors, who have long criticized NYPD enforcement tactics as unfair, heavy-handed attacks on their livelihoods. Street vendors and advocates have maintained that the NYPD enforcement of vendors— who often can't get licenses because permits are capped—disproportionately impacts persons of color and immigrants. They allege that excessive NYPD scrutiny of vending impacts both permitted and un-permitted street vendors.
More than two months after de Blasio's announcement, however, street vendors who spoke to Allegedly described working in a state of limbo. These vendors said they don't have a clear sense of what is happening with enforcement—nor do they know whether police will help in an emergency.
As Ariza went about her work that day, still unconcerned about the police presence, she saw a pair of hands reach under the table and snatch a basket containing merchandise worth hundreds—a week's worth of income.  Ariza screamed for help. The officers stood motionless, claimed Ariza, who does have a vending permit. Another mask vendor chased the thief, tackling him one block away. The robber dropped Ariza's items, but the Good Samaritan was stabbed in his right hand during their scuffle. 
"None of the police standing right here helped me, only that man," Ariza said about the alleged Aug. 8 incident. "He was the only one who ran after the thief, and he could have risked his life to catch a man robbing me of a basket of masks."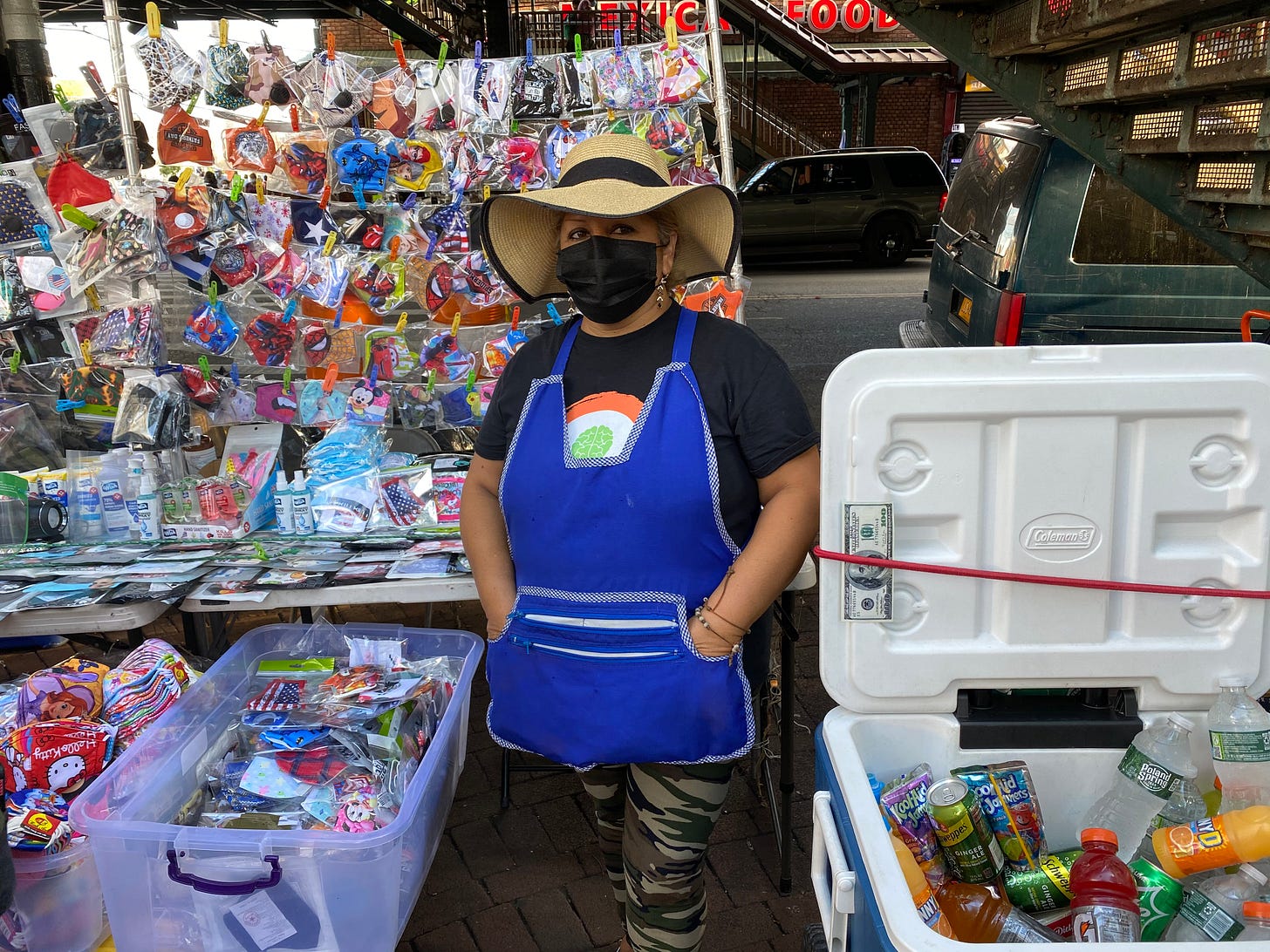 When the man returned the basket to Ariza(pictured above), she brought him to the cops and showed them his bleeding hand. "They did not care, they did nothing but look at us," Ariza claimed.
"The man was stabbed," Ariza continued in Spanish. "But they did nothing. They just kept repeating 'I don't care,' that they cannot do anything."
Elsewhere, street vendors continue to work in fear of the police, due to past experiences and a present lack of information about the new policy.
Maria, who on most days wakes before sunrise to finish preparing the cheese empanadas she sells to commuting laborers at a 7-train station in Corona, said she remained wary of the police after they fined her four years ago. "They told me I cannot sell without permission, and they spilled my drinks," the Cuenca, Ecuador native said of the strawberry and orange pulp-juice she was selling at the time.  
"The law is the law," said Maria, who managed to successfully fight the fine with an arepa vendor's help. "But, that was my work."
One vendor selling tamarind and spicy mangos on Fordham Road in the Bronx felt that police were still harassing vendors. The only difference, he said, is that they were no longer issuing hefty tickets.  
"They question you for almost anything," the man said on a recent Sunday afternoon. 
"After the protests, they are always here. See, over there," he said, pointing to two police cars parked at the corner of Fordham Road and Grand Concourse.
"But they do not seek anything, only to question 'oh, you have two coolers of water? Is it enough with this heat?'" 
"What can you do? It's not that important if they tell me I must go, but for others, they are dependent on this type of work,"said the man, who has a financial buffer as he works in landscaping during the week.  Like Maria, he does not have a permit.
The man said that while he hasn't seen as many officers patrolling for vendors, it's due to COVID-19, not a legal shift.
"They are not here but also, no one else is, either," he said.
"Granted, people may not be getting arrested for street vending, the NYPD is still using intimidation tactics to harass vendors," said Carina Kaufman-Gutierrez, deputy director of the Street Vendor Project. 
"When you think the law is unjust and the law doesn't serve New York City and doesn't serve the residents of New York, then those laws need to be changed. It's literally impossible to get a permit or next to impossible," she said. "That's a system that doesn't work for New York City."
Advocates have estimated that while there are from 10,000 to 20,000 vendors in the city,  a mere 853 can get non-food vending permits, and just 5,000 can lawfully sell food, according to The New York Times.
Kaufman-Gutierrez and her colleagues have been pushing for the passage of Intro 1116, a bill that would increase the number of permits allotted annually—and completely remove the enforcement of street vendor regulations from the NYPD's control. The bill would also create a "dedicated vending law enforcement unit" and "street vendor advisory board" of vendors, brick and mortars, and community and city representatives. 
 Many city officials support the proposed legislation, echoing these concerns.
"They are subject to harassment, inconsistent enforcement, and exploitation due to a cap restricting the number of permits given to food vendors," said Council Member Vanessa L. Gibson in a statement. 
While Gibson and 29 other council members co-sponsored Intro 1116, it has yet to be voted on. Neither the mayor's office nor NYPD responded to requests for comment.
Doña Maria Crespo, who has sold Ecuadorian food since immigrating to New York City more than 34 years ago, was not particularly optimistic about potential reforms. 
"Child, in the 34 years I have lived here, I have never trusted nor been supported by the police," said Crespo, who does have a permit.  "They were mad, in that working over here, they have bothered me, they made me throw out my food and they told me to leave."
Crespo, who is Ariza's sister in law, said the police's reaction to the robbery attests to vendors' ongoing frustration. 
"I was happy when they said the police would not give us tickets," Crespo said, "but this is not what they meant."
Photo credit: Catherina Gioino