This Week in Allegedly: Bill de Blasio's Battle with Courts, Mike Diana's New York Life
Good morning!
New York City's crime and courts news was busy this week as per usual, with Mayor Bill de Blasio repeating the same complaints about state courts that he did last week, conflicting with hard facts. We'd make a Groundhog Day joke here, owing to his repetitiveness and troubled past with the animal, but that would just be too easy. More on that in The Allegedly List. For The Allegedly Original, Craig Pittman catches up with Mike Diana, who still calls New York City home after Florida found his comics to be too obscene. Since you'll like what you read, don't forget to subscribe! 
The Allegedly List
The Allegedly Original
Mike Diana's Comics Were Too Obscene For Florida.  New York City Welcomed Him With Open Arms
By Craig Pittman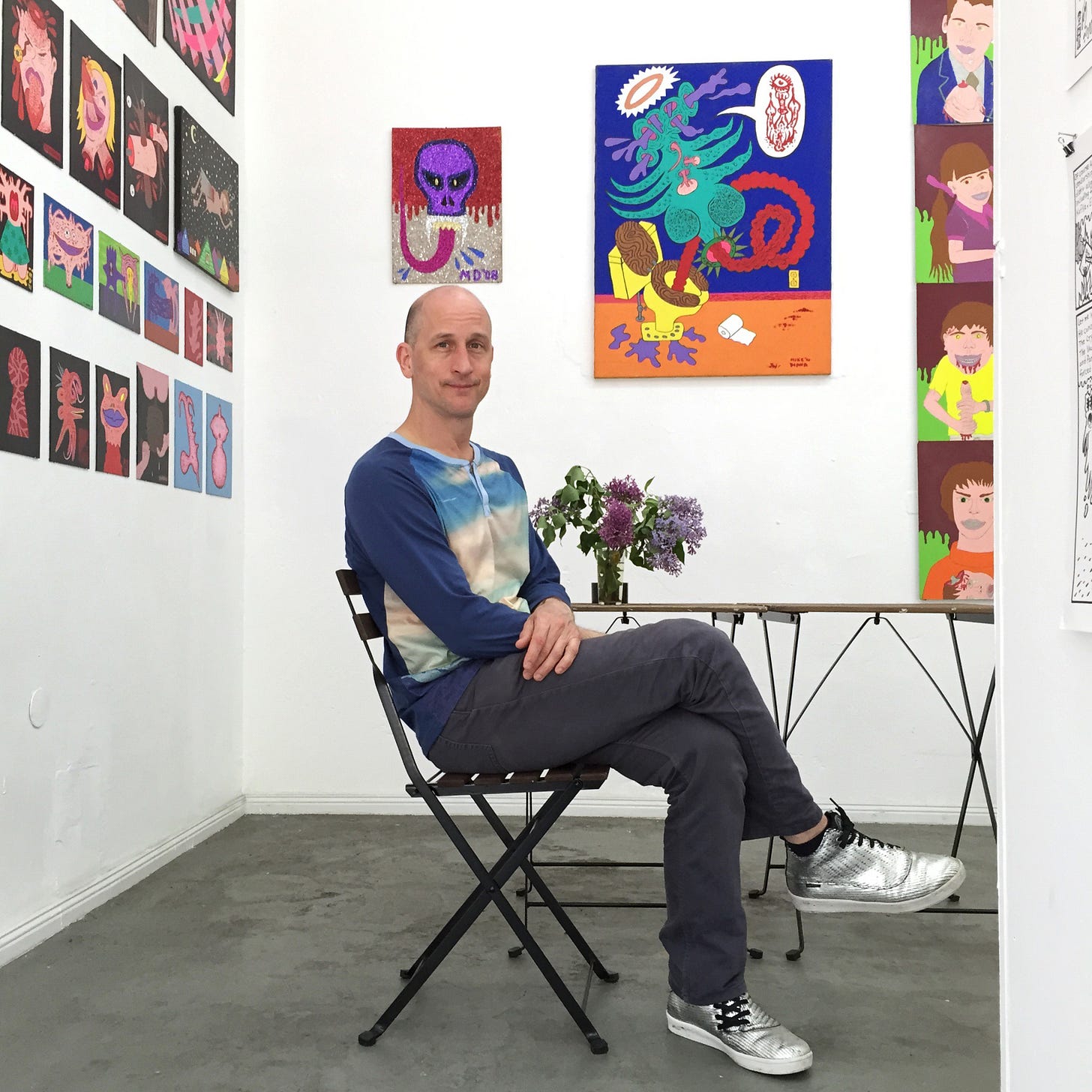 In 1994, when a skinny convenience store clerk from Florida named Michael Diana walked into his local jail, the other inmates asked him what he was in for.
"For drawing cartoons," Diana said.
"Damn," one inmate responded. "They'll throw you in here for anything!" 
It was true. Diana had been convicted of violating obscenity laws by producing a series of home-made comic books that he called Boiled Angel. Each one featured Diana's crude depictions of murder, rape, dismemberment, child abuse and satanic rituals — all of which, he said, were inspired by real-life events he saw on the news. 
The three days he spent in the Pinellas County Jail made him the first cartoonist in U.S. history to be incarcerated for obscenity. They also made him famous.
Before long, the ex-inmate was appearing on national TV talk shows, displaying paintings at the Museum of Modern Art in Manhattan and delivering speeches in Amsterdam and Berlin. A rock groupie even cast his private parts in plaster – she'd done the same thing to Jimi Hendrix, she said.
Diana owes his notoriety to a real serial killer. His mail-order comic books first came to the attention of detectives while investigating the grisly 1990 slayings of five college students by a murderer tagged as "the Gainesville Ripper." (The case was later cited as the inspiration for the Scream movie franchise.)
A drifter named Danny Rolling, the son of a police officer, eventually confessed to the murders and was eventually executed. But police believed the crudely drawn comic book scenes concocted by the stringy-haired Diana were so disturbing that they could be a preview of future massacres. 
Diana drew his grotesque creations in his spare time and published them himself. No issue of his Boiled Angel comics circulated to more than 300 readers. An undercover deputy purchased one through the mail, and then charged him with three counts of obscenity.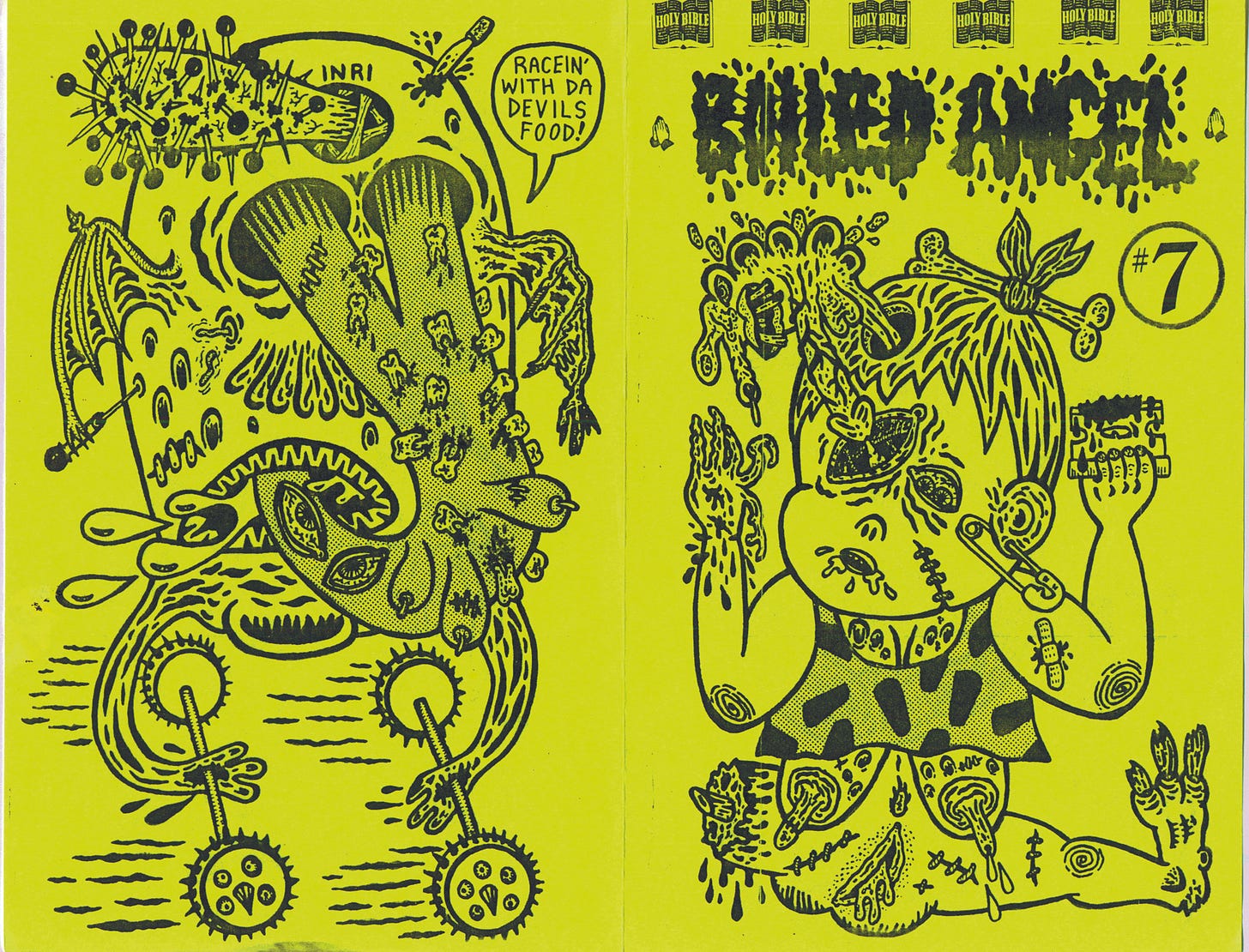 Although Diana's work was self-published, he drew support from the comics industry via the Comic Book Legal Defense Fund, which would end up spending more than $50,000 supporting Diana. The fund hired one of the Tampa Bay region's best-known free speech attorneys. Luke Lirot had not built that reputation by defending artists and writers. His clientele consisted primarily of strippers, and his arguments concerned whether their dance routines were protected by the First Amendment.
At the March 1994 trial, Diana testified that he did not intend to sexually arouse his readers. He wanted to horrify them.
"I make it as ugly as possible," he said. "I want to make it really terrifying, because these things really terrify me."
Lirot brought in expert witnesses from San Francisco and New York to attest to the artistic value of Diana's drawings. The lead prosecutor professed himself unimpressed. In his closing argument, he told the jury that their area "doesn't have to accept what is acceptable in the bathhouses in San Francisco, and it doesn't have to accept what is acceptable in the crack alleys of New York."
The jury's deliberations took a mere 90 minutes. They found Diana guilty on all three counts. The verdict came in on a Friday afternoon.
Pinellas County Judge Walter Fullerton – who bore a striking resemblance to George Carlin — said he wasn't ready to hand down a sentence. He could have sent Diana home. Instead, Fullerton sent him to cool his heels in the county jail for three days before bringing him back into court.
After his weekend behind bars, Diana learned the sentence he'd drawn: three years of probation, a $3,000 fine and 1,000 hours of community service. Fullerton also ordered him to undergo drug testing, take a journalism ethics course, get a psychological exam, draw nothing obscene and stay away from minors. The latter condition was hard to follow in Diana's convenience store job.
Lirot, of course, appealed. Ultimately a higher court tossed out one of the three counts, because it concerned a comic book called Boiled Angel Ate that Diana hadn't even drawn yet. He had just promised it to his handful of subscribers. The appeals court also tossed the requirement he take a drug test because no one had alleged he was taking drugs. But the appellate judge upheld the other two counts, and Lirot could not get the U.S. Supreme Court interested in the case.
By the time his appeals had run their course, Diana had quit his convenience store job and moved to New York, where he shared a rent-controlled Lower East Side apartment with a member of a band called the Voluptuous Horror of Karen Black.  He credited his decision to move to an invitation from Screw publisher Al Goldstein to appear on his show, Midnight Blue, which taped in New York.
Because of the move and the passage of time, he says, he lost track of what parts of his sentence were upheld and what parts were not, what he'd completed and what he hadn't. That led to more trouble.
Because he failed to complete all of his probation, in 1998 he was classified as a violator and Pinellas County put out a warrant for his arrest. No deputies flew to New York to apprehend the ink-stained scofflaw. But whenever Diana would fly overseas for an exhibit or a lecture, his return home would lead to delays. Invariably, the Department of Homeland Security would hold him when he got off the plane, alerted to the presence of his outstanding warrant. Usually, he said, they would turn him loose once they found out Florida authorities wouldn't pay to extradite him over a mere misdemeanor.
Diana finally decided to settle the matter earlier this year because he was the subject of a documentary called Boiled Angels. Winding up his case after 26 years gave the film a good ending. The two-hour film just came out on Amazon Prime last month, he said.
Diana became a truly free man in February. Now 50, Diana continues painting and drawing the same things that once landed him in so much trouble, although he has yet to produce the real-life massacre that police feared. These days, he says, the rest of the world has seemingly caught up. From his apartment in Long Island City, he watches Adult Swim shows on the Cartoon Network or images in video games, and to him they don't look all that different from his sketches in Boiled Angel. And nobody is screaming for anyone to go to jail over those.
"Everything seems more open now," he said.
The pandemic means you may be seeing a lot more of Diana's artwork. He's joined forces with a company called Threadlist to put his drawings on coronavirus masks to sell to fans. The horrors that once landed him in jail now seem to fit right in with everything else going on in 2020.
Photos courtesy of PVR.
Like Allegedly? Then subscribe! We'll soon be offering paid subscriptions, too. Members will get access to important court documents and eventually, more original stories. 
Want to write for Allegedly? If you're a  New York City reporter with an idea, email victoriabekiempis [at] gmail [dot] come with [PITCH: Allegedly] in the subject line.  We pay!